How Does Staking Work?
Staking is the ability to buy and sell stakes in tournaments. In the PokerKing room, staking is built right into the game client.
How it works:
Player 1 registers in a $100 tournament and decides to sell 10% share without markup
Player 2 buys a 10% stake for $10
If Player 1 succeeds, 10% of his prize is allocated to Player 2.
Purchase of shares
You can buy a stake in a player you're interested in, or stakes in an interesting event like TheVenom. If the player who sold you a share is successful, you get a part of his prize without playing a single hand in the tournament.
Sale of shares
If you are playing in an expensive tournament where a high buy-in creates additional psychological stress for you and risk to your bankroll, then you can sell part of the buy-in, thereby making it easier for yourself to participate in the tournament. If successful, the player who bought your share will receive a portion of your prize payout.
Players without special verification can sell shares without markup (1 to 1). To sell shares at a premium, you must pass a special verification and agree to the display of your real name.
If you have passed verification, then by selling shares in tournaments you can get additional profit.
Example: playing a $1,000 tournament, you can sell a 10% stake for $150 (1.5 to 1).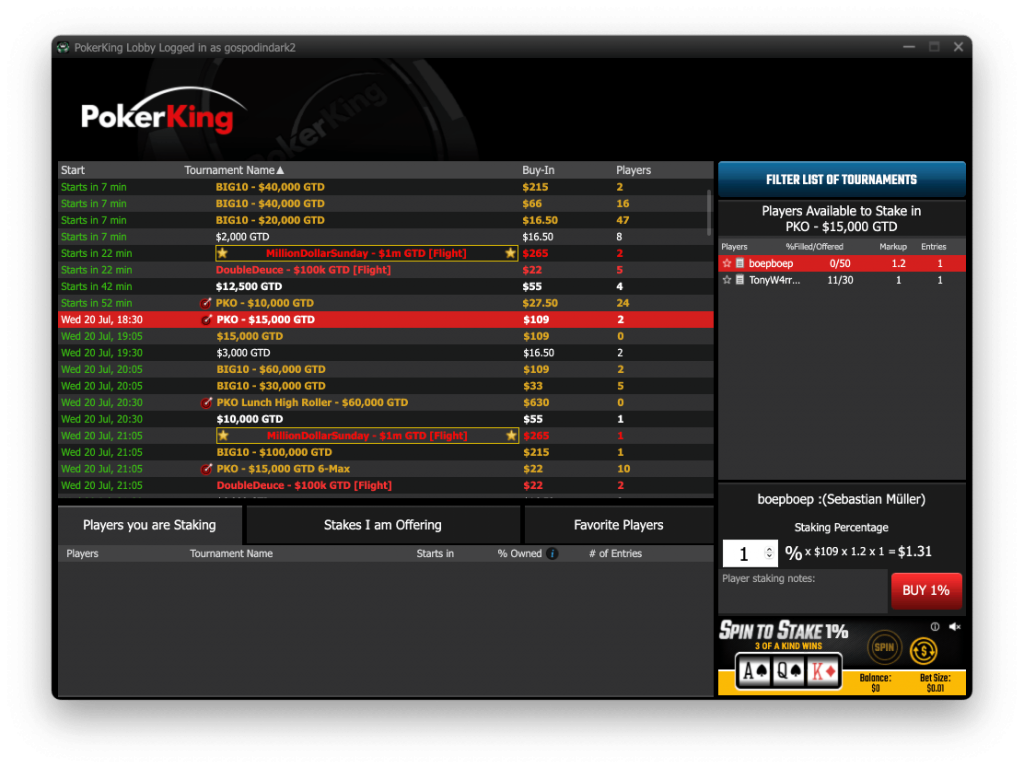 How to buy a share?
Click on the "Staking" button in the game client
You will see a list of tournaments where stakes are for sale
By opening the tournament lobby, you will be able to see a list of players who are selling shares, as well as the amount of shares they are selling (maximum 90%). You can tag players you are interested in, as well as make a tag that only you can see.
You must indicate the percentage of the share that you want to purchase and click on the "Buy" button. The purchase is confirmed by 1% every 5 minutes, so that other players also have a chance to buy a share.
The purchase is final and cannot be cancelled. If the system does not have time to purchase the entire share that you requested, the remaining part of the funds will be returned to your account.
Then you can follow the course of the tournament and wait for its completion. If the player from whom you bought a share falls into the prize zone, you will receive a corresponding part of his winnings.
How to sell a share?
Find the tournament in which you want to sell a share, click on the "Sell Action" button
If you have not yet registered for the tournament, you will see the "Register and Offer Staking" option.
Indicate the percentage of the share that you are willing to sell, as well as the number of entries you plan to make (if the tournament includes the possibility of multiple entries). Here you can specify the markup for your share.
Terms and Conditions
Staking allows you to buy and sell shares of players in multi-table tournaments.
The WPN does not charge any additional fees on buy-ins on shares sold.
Sale of shares
The maximum share for sale is 90%.
A player who wants to sell a share at a premium must pass verification and agree to the display of his real name.
It is necessary to specify the number of re-entries in tournaments in advance, where possible.
If the player makes more entries in the tournament, then he does it from his bankroll
Selling shares with the specified number of logins does not automatically re-login. In the event that the player does not use all of the specified inputs, the purchaser of the share will receive a refund of part of the amount.
The network prohibits playing in tournaments at the same time through several rooms, this action is considered as multi-accounting.
The sale of shares ends 5 minutes before the start.
If a player has made an offer and part of the share has already been bought, he loses the ability to edit his offer.
The offer can be canceled at any time before the end of the sale (5 minutes before the start of the tournament)
Shares may be sold at a premium
Purchase of shares
The player can purchase any number of shares.
You can purchase up to 90% of the player's share for a specific tournament.
In the case of multiple entries, the player buys an equal percentage for all entries.
Purchases are final and cannot be canceled by the buyer.
The seller can cancel his offer at any time before the close of the auction (5 minutes before the start of the tournament), in case of cancellation, the buyer receives a refund of his funds.
The purchase is carried out at 1% in 5 minutes
It is forbidden to buy shares from several network accounts