Security and Integrity (RNG)
Fair and safe play is a top priority for PokerKing.
PokerKing Random Number Generator
PokerKing are part of the Winning Poker Network, which uses a single random number generator (RNG) to shuffle the cards in all the network's hands.
To test the honesty and reliability of RNG, the Winning Poker Network turned to experts in this field – an independent company iTech Labs.
iTech Labs conducted an in-depth analysis of RNG, the results of which you can see below.
iTech Labs has confirmed the reliability and safety of the random number generator used by the Winning Poker Network for card shuffling. Our RNG complies with all accepted standards.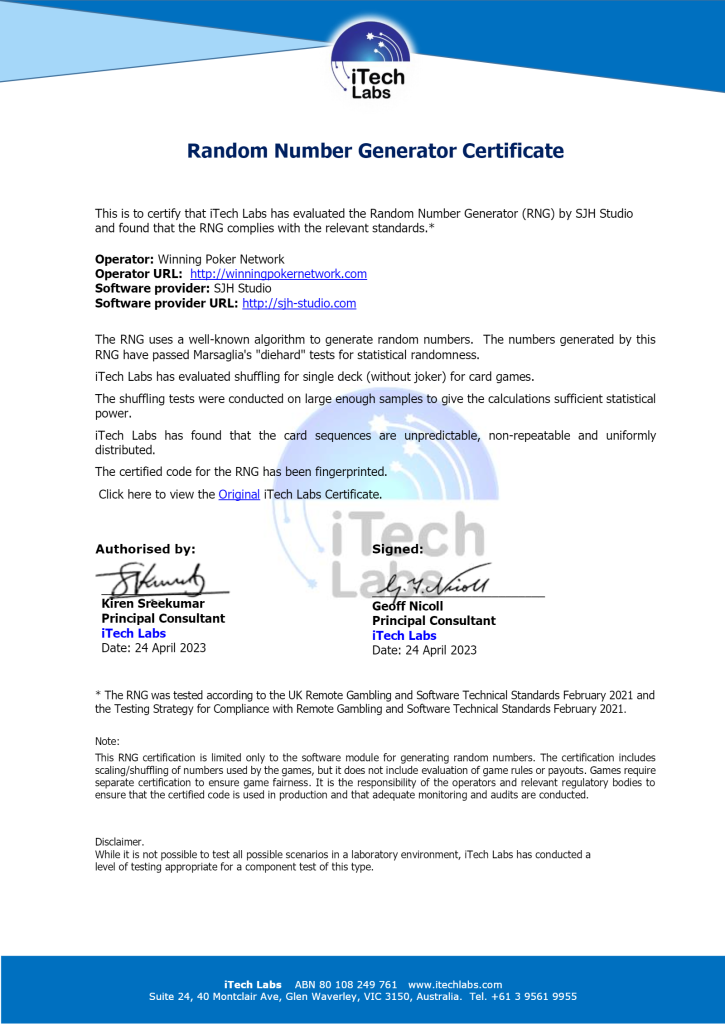 100% Security at PokerKing tables
We do not provide personal customer information to third parties. The identity of each real money player is verified.
Each PokerKing table is monitored by a security team whose members are experienced professionals in their field. They are trained to detect various collusions between players. If one of the players passes information about his cards to other players at the table, we are able to calculate such cases, thanks to the ability to analyze each hand played.
Unusual game patterns are quickly detected by our security team. Players with the same IP address will not be able to be at the same table. We do our best to make playing at PokerKing safe for you.