Time Bank
Time bank is the function on PokerKing giving players an option to take additional time to think.
By default, the time bank is not activated. To activate it during a hand, a player must click the "Time bank" button next to their nickname.
However, it is possible to make it so the time bank is engaged automatically after the regular time to take action is over. You can do it in "Settings", section "Playing Tools", tab "Gameplay" by ticking the box next to "Auto-engage time bank".
The time bank is limited and its pool is reduced when used. You can see the remaining time bank pool measured in seconds next to the "Time Bank" button.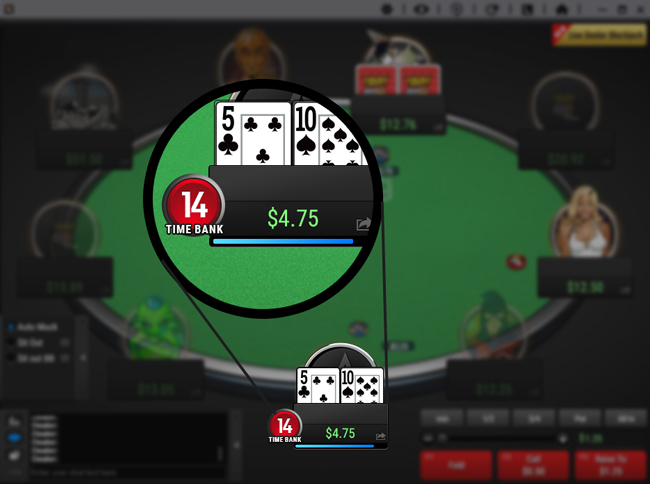 The rules of exhausting and replenishing the time bank depend on the type of game:
In cash games: a few seconds is added after each 10 hands;
In tournaments: the time bank is only replenished after reaching the final table.
There is an additional rule in tournaments: if you spend your whole time bank, including final table additions, it will be unavailable to you for the rest of the game.
Limits of the time bank
The time allowed for players to take action is divided into two categories: the base Time to Act and the additional time, i.e. Time Bank. Their capacity varies depending on the type of game:
Cash games, including Blitz Poker, have Time to Act of 15 sec, Time Bank of 30 sec.
Jackpot Poker has Time to Act of 12 sec, Time Bank of 10 sec.
In Tournaments, including Sit&Go, it depends on the format:
Regular: Time to Act — 15 sec, Time Bank — 120 sec;
Turbo: Time to Act — 14 sec, Time Bank — 45 sec;
Hyper: Time to Act — 12 sec, Time Bank — 30 sec.
The information on this page is valid as of 17 September 2022.