Layout, design of table and lobby
Players on PokerKing are provided with a wide range of options to customize the appearance of layout, to make the interface more convenient and pleasing.
Table design settings
In the room settings there is a "Table Design" tab.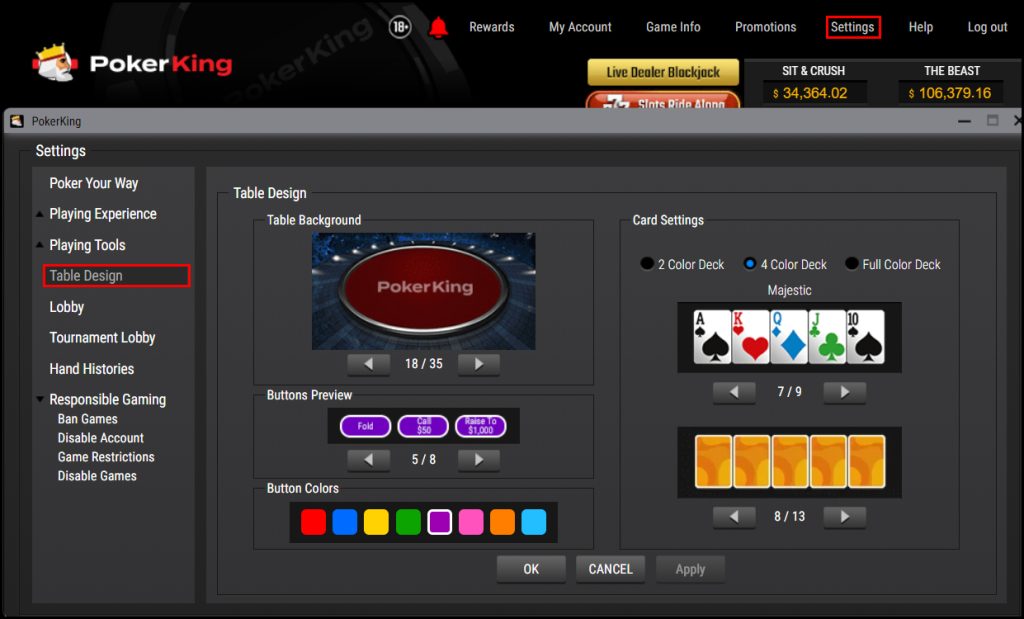 Here you can customize all of the elements of the table:
Table Background — 35 variations;
Card Settings — 2 Color Deck, 4 Color Deck, Full Color Deck;
Card front design — 9 variations;
Card back design — 13 variations;
Buttons design — 8 variations;
Buttons color — from 2 to 8 variations.
Players can use these variations in any combinations allowing for fully personalized table appearances.
To apply the changes to the tables, press the "Apply" button below.
Players can also change the appearance of the table and the background during the game without opening the settings through the lobby.
To do this, you have to click the table icon in the header of the window and select "Change Background Design" or "Change Felt Color". The new design will be applied immediately. Here you can also open the expanded options by pressing the button "Table Options".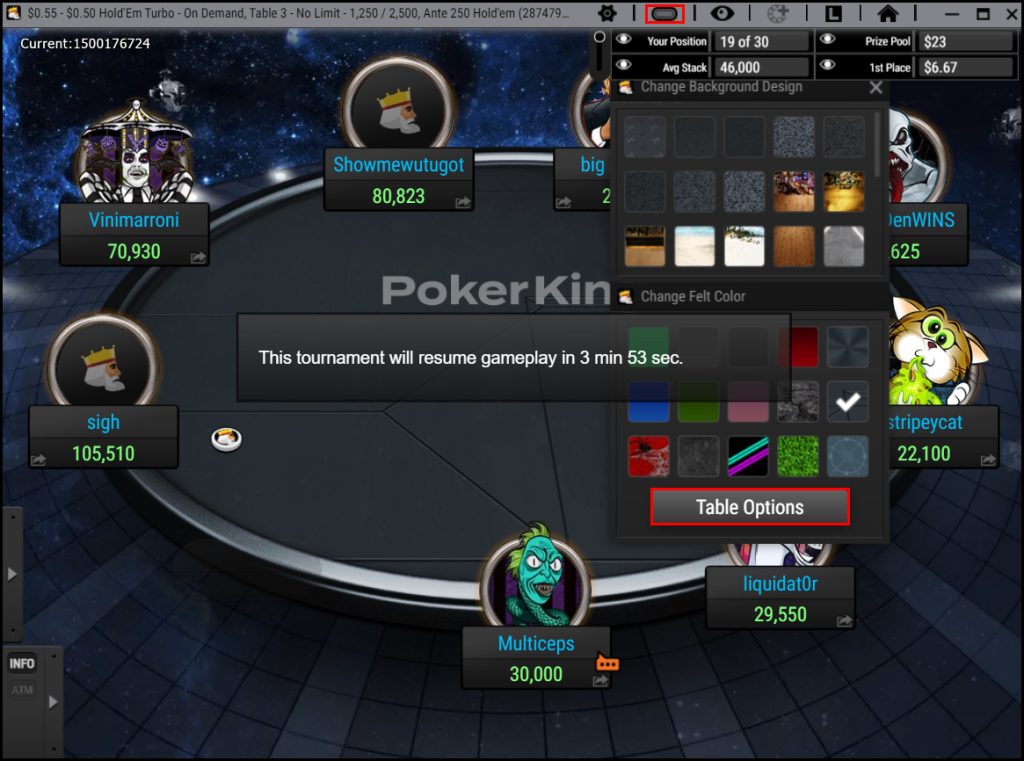 PokerKing tournament lobby appearance settings
Not only the table appearance, but also the tournament lobby of the room can be changed to your liking. The settings for this can be found in "Settings" —> "Tournament Lobby" section.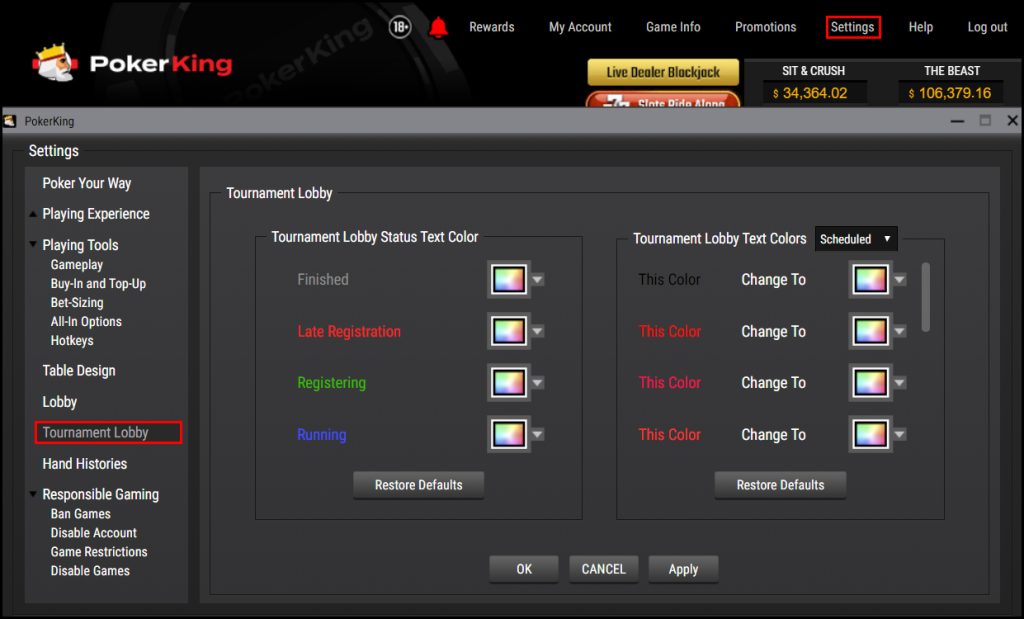 Here, you can set the unique text color for tournaments depending on their types and tournament statuses (Finished, Late Registration, Registering, Running).
Settings for bet sizing buttons
Besides the visual changes to the table, you can also adjust the names and bet amounts associated for all bet sizing buttons.
These settings can be found in the PokerKing lobby —> Settings —> "Playing Tools" section, "Bet Sizing" tab.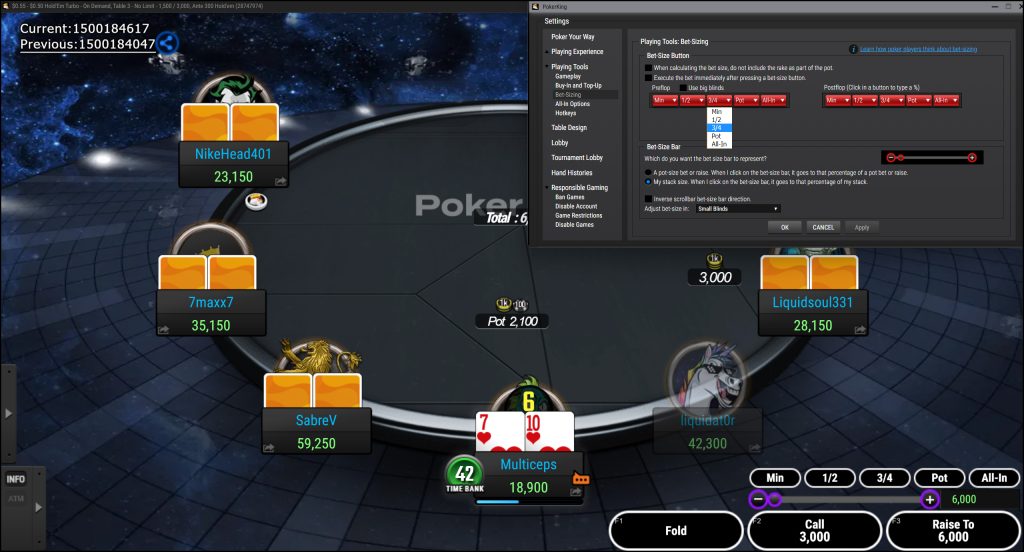 Here you can set the name and the bet sizing for each button:
Min — minimal;
1/2 — half of the pot;
3/4 — three quarters of the pot;
Pot — pot-sized bet;
All-in — go all-in.
Besides that, you can adjust the bet-sizing slider.