How to Make a Deal at the Final Table?
Tournament finalists can enter into deals, during which the remaining prize pool of the tournament will be distributed among them.
In tournaments with knockouts, the deal does not take into account payments for knockouts of players.
To start discussing a deal at the final table, you must click the "I Want A Deal" button, which appears at the top of the game table. When the first finalist clicks on this button, all other players will see a window with instructions about the process.
Players who agree with the conclusion of the deal are marked with a green circle at the table. When all players successfully agree to negotiate a deal, the game stops.
Players will see a screen with information about the deal. Everyone will have 300 seconds to make a decision: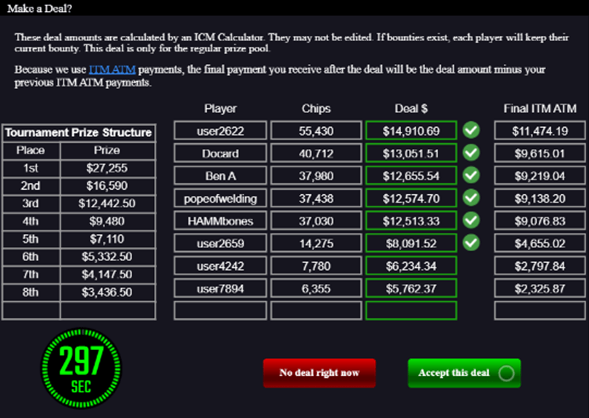 At this time, table spectators will see an empty table with information that the players are negotiating a deal.
The distribution of the prize pool depends on the number of chips players have and cannot be changed. The distribution only includes the prize pool of the tournament, not the knockout payouts. The deal is concluded if all players agree (press the "Accept this Deal" button). If one or more players refuse the deal (press the "No deal right now" button), then the game will continue after 20 seconds.
Players can discuss the deal again at any time. The distribution of the prize pool will change in accordance with the players stack sizes.
If all players agree to the deal, the tournament will end.
Information about the concluded deal will appear in the tournament lobby.