Bahamas Bracelet Chase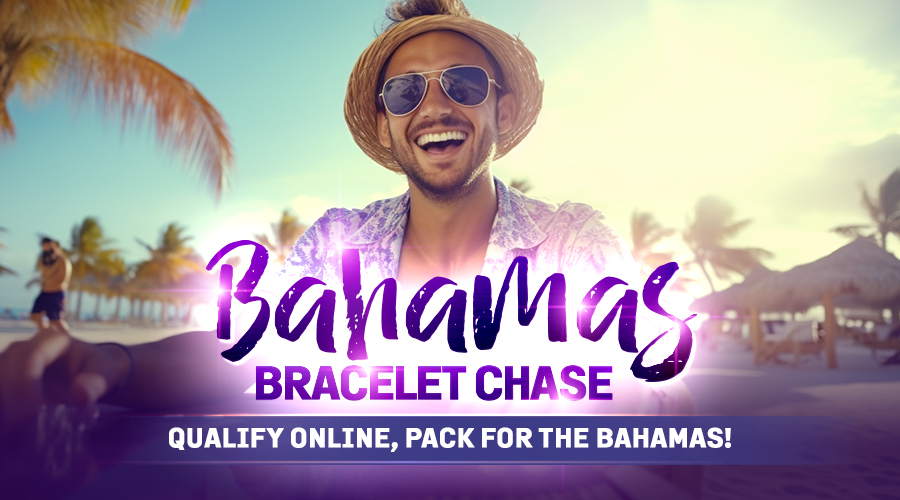 Win a trip to your dream series in satellites on PokerKing! We will be awarding 40 packages worth $15K each in Bahamas Bracelet Chase satellites.
Bahamas Bracelet Chase satellite information
The final satellites will take place on Sundays:
October 22nd at 2:05pm ET — 10 packages GTD, buy-in $1,050
October 29th at 2:05pm ET — 10 packages GTD, buy-in $1,050
November 5th at 2:05pm ET — 10 packages GTD, buy-in $1,050
November 12th at 2:05pm ET — 10 packages GTD, buy-in $1,050
Each package is valued at $15,000 and includes
$5,300 Main Event $15M GTD ticket.
$5,000 for travel expenses (the money will be credited to your PokerKing account)
10 nights stay at Atlantis Resort from December 3 to 13.
daily lunches
How to Qualify for the Bahamas Bracelet Chase Final Satellites
Sub-satellites to the final satellites will start on October 16.
Sub-satellite schedule
| | | |
| --- | --- | --- |
| Время старта ET | Name | GTD |
| from Mondays through Thursdays, 3:30pm | $109 Super Satellite | 3 seats $1,050 |
| on Saturdays, 2:30pm | $109 Super Satellite | 5 seats $1,050 |
| on Sundays, 10:30am | $160 Super Satellite | 15 seats $1,050 |
On Fridays and Saturdays, additional sub-satellites will be added to the super satellites:
Freeroll → $16.50 → $160 Sunday Super Satellite.
Terms & Conditions:
Eligibility: All WPN players who are at least 18 years of age are eligible to participate.
Package Utilization: Transferable packages are designated exclusively for use at this Bahamas Main Event and will be forfeited if not exercised.
Package Details: Upon winning the online qualifier, winners will immediately receive a $5,000 credit to their account to cover travel expenses.
Participation: Entrants who qualify via a Super Satellite are obliged to participate in the following Bahamas Main Satellite event. Unregistering is prohibited.
Event Rescheduling: WPN reserves the comprehensive right to alter, amend, or postpone event details, structure, or the prize package if deemed necessary.
Cancelation Rights: WPN holds unequivocal authority to cancel or modify the promotional terms at any time without prior notification, in light of unforeseen circumstances.
Fair Play: WPN is committed to maintaining an equal and fair gaming environment. Any player found violating fair play rules or employing unethical practices will be subject to immediate disqualification and potential further action.
Liability: WPN and its affiliates bear no liability for personal loss, injury, or damage incurred during the duration of the trip.
Travel Compliance: Prize winners are responsible for establishing their eligibility to travel and ensuring adherence to all travel restrictions.
Tax Responsibilities: Prize winners are responsible for any applicable taxes or duties levied on winnings.