PKOSS $10M GTD — One Of The Largest PKO Series
The new PKOSS (Progressive Knockout Online Super Series) will take place from October 30 to November 14.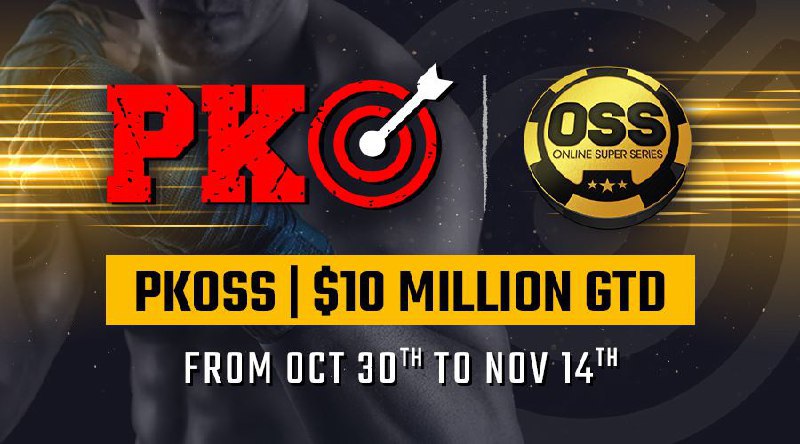 The series will only feature progressive knockout tournaments. There will be two Main Events at PKOSS:
$630 Main Event #1, $1M GTD
$109 Main Event #2, $500K GTD
These are two days events:
Day 1A – November 6
Day 1B – November 13
Day 2 – November 14
There are also three multi-flight events at PKOSS:
$215 Multi-Flight #1, $1M GTD
$55 Multi-Flight #2, $500K GTD
$1,40 Multi-Flight #3, $25K GTD
Flights will run every day throughout the series, Days 2 will start on November 14th.
Schedule for the second week of PKOSS:
| | | | | |
| --- | --- | --- | --- | --- |
| Date | Time | Name | Buyin | Fee |
| Sunday, November 6th | | | | |
| | 8:05 | PKOSS #33 – $15,000 GTD | $50 | $ 2,50 |
| | 9:30 | PKOSS #34 – $35,000 GTD 6-Max | $100 | $ 9,00 |
| | 11:30 | PKOSS #35 – $50,000 GTD | $15 | $ 1,50 |
| | 12:05 | PKOSS #36 – $250,000 GTD | $200 | $ 15,00 |
| | 12:05 | PKOSS #37 – $150,000 GTD | $60 | $ 6,00 |
| | 13:05 | PKOSS #85 – $1,000,000 GTD ME Day 1A | $600 | $ 30,00 |
| | 13:05 | PKOSS #86 – $500,000 GTD Day 1A | $100 | $ 9,00 |
| | 14:30 | PKOSS #38 – $40,000 GTD | $15 | $ 1,50 |
| | 14:30 | PKOSS #39 – $400,000 GTD [Day1] | $1 000 | $ 50,00 |
| | 16:05 | PKOSS #40 – $125,000 GTD | $300 | $ 20,00 |
| | 16:05 | PKOSS #41 – $15,000 GTD 6-Max | $25 | $ 2,50 |
| | 17:05 | PKOSS #42 – $150,000 GTD PLO8 6-Max | $1 000 | $ 50,00 |
| | 17:30 | PKOSS #43 – $125,000 GTD High Roller | $600 | $ 30,00 |
| | 18:30 | PKOSS #44 – $75,000 GTD | $100 | $ 9,00 |
| | 19:05 | PKOSS #45 – $30,000 GTD | $30 | $ 3,00 |
| | 19:05 | PKOSS #46 – $10,000 GTD | $10 | $ 1,00 |
| | 20:10 | PKOSS #47 – $75,000 GTD Hyper | $500 | $ 15,00 |
| | 20:15 | PKOSS #48 – $25,000 GTD Hyper PLO8 | $200 | $ 7,50 |
| | 21:05 | PKOSS #49 – $30,000 GTD | $200 | $ 15,00 |
| | | | | |
| Monday, November 7th | | | | |
| | 13:05 | PKOSS #50H – $100,000 GTD | $200 | $ 15,00 |
| | 13:05 | PKOSS #50M – $100,000 GTD | $100 | $ 9,00 |
| | 13:05 | PKOSS #50L – $50,000 GTD | $30 | $ 3,00 |
| | 13:30 | PKOSS #51 – $200,000 GTD High Roller | $600 | $ 30,00 |
| | 14:05 | PKOSS #39 – $400,000 GTD [Day2] | $1 000 | $ 50,00 |
| | 14:30 | PKOSS #52 – $50,000 GTD | $50 | $ 5,00 |
| | 15:05 | PKOSS #53 – $20,000 GTD | $10 | $ 1,00 |
| | 16:30 | PKOSS #54 – $25,000 GTD | $30 | $ 3,00 |
| | 19:30 | PKOSS #55 – $20,000 GTD | $100 | $ 9,00 |
| | 19:30 | PKOSS #56 – $15,000 GTD | $15 | $ 1,50 |
| | 20:10 | PKOSS #57 – $50,000 GTD | $300 | $ 10,00 |
| | 21:05 | PKOSS #58 – $20,000 GTD | $200 | $ 15,00 |
| | | | | |
| Tuesday, November 8th | | | | |
| | 11:15 | PKOSS #59 – $15,000 GTD | $25 | $ 2,50 |
| | 11:20 | PKOSS #60 – $30,000 GTD | $100 | $ 9,00 |
| | 11:30 | PKOSS #61 – $2,000 GTD | $4 | $ 0,20 |
| | 15:30 | PKOSS #62 – $75,000 GTD | $100 | $ 9,00 |
| | 16:30 | PKOSS #63 – $25,000 GTD | $30 | $ 3,00 |
| | 16:30 | PKOSS #64 – $2,500 GTD | $3 | $ 0,30 |
| | 21:06 | PKOSS #65H – $20,000 GTD | $200 | $ 15,00 |
| | 21:06 | PKOSS #65M – $15,000 GTD | $20 | $ 2,00 |
| | 21:06 | PKOSS #65L – $5,000 GTD | $5 | $ 0,25 |
| | | | | |
| Wednesday, November 9th | | | | |
| | 13:30 | PKOSS #66H – $100,000 GTD | $200 | $ 15,00 |
| | 13:30 | PKOSS #66M – $20,000 GTD | $20 | $ 2,00 |
| | 13:30 | PKOSS #66L – $7,500 GTD | $5 | $ 0,50 |
| | 17:30 | PKOSS #67H – $20,000 GTD PLO 6-Max | $200 | $ 15,00 |
| | 17:30 | PKOSS #67M – $10,000 GTD PLO 6-Max | $80 | $ 8,00 |
| | 17:30 | PKOSS #67L – $5,000 GTD PLO 6-Max | $15 | $ 1,50 |
| | 18:30 | PKOSS #68 – $30,000 GTD | $100 | $ 9,00 |
| | 20:15 | PKOSS #69 – $7,500 GTD Hyper PLO | $30 | $ 1,50 |
| | 21:05 | PKOSS #70 – $25,000 GTD | $200 | $ 15,00 |
| | | | | |
| Thursday, November 10th | | | | |
| | 13:05 | PKOSS #71H – $150,000 GTD | $1 000 | $ 50,00 |
| | 13:05 | PKOSS #71M – $100,000 GTD | $200 | $ 15,00 |
| | 13:05 | PKOSS #71L – $40,000 GTD | $40 | $ 4,00 |
| | 18:05 | PKOSS #72 – $50,000 GTD | $600 | $ 30,00 |
| | 18:30 | PKOSS #73 – $50,000 GTD | $100 | $ 9,00 |
| | 19:15 | PKOSS #74 – $15,000 GTD | $15 | $ 1,50 |
| | | | | |
| Friday, November 11th | | | | |
| | 15:05 | PKOSS #75 – $17,500 GTD | $10 | $ 1,00 |
| | 17:05 | PKOSS #76H – $50,000 GTD | $100 | $ 9,00 |
| | 17:05 | PKOSS #76M – $30,000 GTD | $50 | $ 5,00 |
| | 17:05 | PKOSS #76L – $20,000 GTD | $25 | $ 2,50 |
| | | | | |
| Saturday, November 12th | | | | |
| | 13:05 | PKOSS #77H – $60,000 GTD | $200 | $ 15,00 |
| | 13:05 | PKOSS #77M – $50,000 GTD | $100 | $ 9,00 |
| | 13:05 | PKOSS #77L – $40,000 GTD | $30 | $ 3,00 |
| | 17:05 | PKOSS #78 – $20,000 GTD | $100 | $ 9,00 |
| | 19:15 | PKOSS #79 – $17,500 GTD | $15 | $ 1,50 |